Fastmetrics Internet Speedtest.net Results & M-Lab Data
Below, some recent samples of live speedtest.net results from Fastmetrics business customers. These tests cover various Internet service connection types from us including fiber, Ethernet and WiFi. Also provided is some speed test data of other San Francisco ISPs from M-Lab, from November 1st – September 1st 2019, which measures both upload and download speeds.
What stands out about Fastmetrics speedtest.net results? Most Fastmetrics internet connections are close to symmetric. As a dedicated B2B ISP, we strive to provide equal download and upload speeds.
Why is upload speed important? Because it's how we use the Internet today. The emergence of cloud computing services is a major factor in the need of faster upload speeds. There's more demand for services such as cloud PBX phone systems. Also access to cloud based platforms such as AWS.
How do Fastmetrics Internet speeds compare? M-Lab Viz data from November 1st 2018 – September 1st 2019, shows Fastmetrics provides the fastest average upload speeds in San Francisco. Fastmetrics matches or exceeds other ISPs for average download speeds over the last year. See full data from M-Lab Viz.
M-Lab Viz data for AVERAGE UPLOAD SPEEDS – November 1st 2018 – September 1st 2019;
Fastmetrics average upload speed: As of September 1st 2019, 14.4Mbps. Or, 5.3Mbps faster than Wave, with the next highest average upload speed of 9.1Mbps.
Peak average upload speed: On May 1st 2019, Fastmetrics average upload speeds reached a peak of 44.3Mbps. At the same time, the next fastest San Francisco ISP was Wave with an average of 8.8Mbps.
Combined average yearly download speed: Using data from last year, Fastmetrics average download speeds were slower than Comcast in San Francisco by 4.2Mbps. However, both averages were faster than Wave, AT&T and the San Francisco average overall.
Combined yearly AVERAGE UPLOAD & DOWNLOAD SPEEDS of 4 San Francisco ISPs. (Grey circle is overall San Francisco average);
Why is symmetric Internet service better? Many Internet Service Providers do not offer symmetric service. Most speed test results prove upload speed is slower than downloads. Many ISPs only advertise download speeds.
Do data data caps matter? We think so. Growing bandwidth demand is a natural progression of how we use the Internet today. As a business only provider, all our Internet service connections offer unlimited data, with the exception of our LTE backup. Many ISPs cap their bandwidth or data usage. You pay extra fees for exceeding data caps.
Fastmetrics Internet Service Speedtest Results
Most of the speedtest.net results below are from customers with our fiber internet service connections. Note: San Francisco is the primary location, where This our data center is. However, our service covers the entire Bay Area. Fiber is the most popular business internet service we provide to our business only customers. Followed by our dedicated Ethernet service. Both of these services meet bandwidth heavy demands, are highly reliable with SLAs providing guaranteed up time, and support multiple users and cloud based connectivity. These services provide speeds to 10Gbps upload and 10Gbps download.
Fiber & Direct Cloud Connect Customer Speed Test – October 22nd, 2019
Symmetric Internet Speed Result For Bay Area Customer – October 10th, 2019
Fiber Speedtest.net Result – September 11th, 2019
Fiber Internet Speed Result – August 19th, 2019
Fiber Optic Internet Speed Test Result – April 4th, 2018
Backup Internet Speedtest Result – June 12th, 2017
Close to symmetric for this customer. Note that some bandwidth is required to keep the connection open, so not the complete 50 Mbps. This circuit is used by our customer as a fail-over solution.
Fiber Optic Internet Speed Test – May 22nd, 2017
Fiber speed test for a San Francisco based customer. This fiber connection is used as a backup to the primary connection of a large company. Note the upload speed in this speed test exceeds the download speed.
Fiber Internet Test Result – May 25th, 2017
Very close to a symmetric connection for this San Francisco apparel business. Note that some bandwidth is required to keep the connection open.
Fiber Speedtest.net Result – May 15th, 2017
A lower tier connection test, coming in at under 100 Mbps. Internet service for a Bay Area based business customer.
Fiber Internet Service Test – May 12th, 2017
Symmetric fiber internet connection speed test result for another SF based customer. Note the upload speed of just over 230 Mbps.
Business WiFi Service Speed Test – May 10th, 2017
A good result here for business WiFi service. Note the slightly slower ping of 4 ms. Upload speed is not symmetric, but still fast. We provide completely managed WiFi service. This provides optimal speed performance for a business wireless network.
Fiber Internet Speed Test – May 8th, 2017
Note the upload speed for this test actually exceeds the download speed, which is rare.
Business WiFi  Speed Test From Mobile – 22nd Jan, 2016
Business WiFi test from one of our Network Engineers, after WiFi network setup at a customer location. Using a Samsung mobile device.
Gigabit Fiber Internet Speed Test Result – September 18th, 2015
This 2015 speedtest.net result, shows the capabilities of our Gigabit fiber service. Gigabit internet download speed alone, combines the power of approximately 660 bonded T1s!
Fiber Internet Speed Result – December 23rd, 2014
Another fiber optic test result here. Good ping time and download speed. Upload speed is still fast at > 600 Mbps, but it's not as symmetric.
Fiber Optic Internet Speed Result – October 14th, 2011
This speed test from 2011 is also for a business fiber customer. Note the ping time is a little slower than our gigabit result above.
Test & Compare Your Own Internet Connection Speed
Visit speedtest to test how fast your internet service connection is.
Take a speed test with Comparitech, who donates $0.01 USD to the Electronic Frontier Foundation, a non-profit digital rights advocacy group, for Computers 4 Africa. A donation is made for every unique user speed test taken.
Click the link here to compare your internet connection against broadband and fiber download speeds.
Video: 10 Gigabits Per Second Over Fiber
Our new 10 gigabits per second (symmetric upload and download speeds) fiber internet service, is now available to qualified Bay Area businesses. We created a short video for the Fastmetrics YouTube channel, to promote this new business service offering.
Video transcription: Is your business looking for fast, reliable and secure internet service? Fastmetrics supplies symmetric fiber, scalable to 10 gigabits per second. Backed by local support in the Bay Area. Get a free install at your business today! Visit fastmetrics.com
Welcome to our Internet Speed Raceway
We raced popular Internet services, then paired each service with a car. Placings were awarded from 1st to 6th.
Considerations from each Internet service;
Upload speed (high influence)
Download speed (medium influence)
Technology used (low influence)
Business Internet services were matched with cars based on performances in the 'power lap' of the BBC racing show, Top Gear. Results from the BBC show were given preference over U.S results, due to a larger range of speed tests. No offense to any Peel P50 or DSL 'drivers'!
For further info on Internet service comparisons, we have compiled download speeds for various file types and sizes in our how fast is fiber optic internet page. Also the table linked here can be used to compare Internet services, from fiber, to dedicated Ethernet, to EoC, WiFi and other service options. Or, check the key differences between DSL vs cable vs fiber Internet.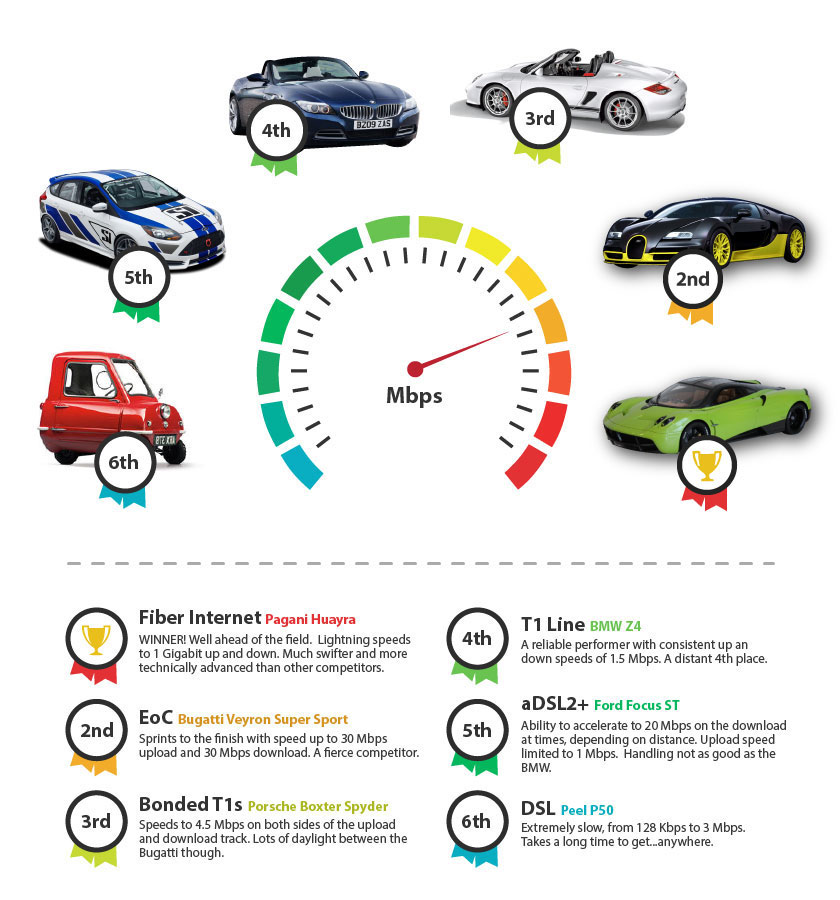 Source: Top Gear Power Lap Times