Test Internet Speed vs Fastmetrics
See a sample of real Internet speed test results from Fastmetrics business customers going back to 2011. Also test your own Internet speed below. Our own speed tests cover Internet connection types including fiber, EoC, Ethernet and WiFi. Also provided is some average speed data comparing different San Francisco ISPs from M-Lab.
Test Your Own Internet Speed
Test to how your current Internet speed compares to the Fastmetrics results below. Take a quick test here by clicking the blue 'Start' button now;
Compare your speed test above with an alternative source. Try this Internet speed test provided by Speedcheck.
Fastmetrics Internet Service Speedtest Results
Most of the sample test results below are from business customers with our fiber internet service connections. San Francisco is the primary location, where our data center is. Ping times are measured from the customer locations back to our data center, on Spear Street. Fiber is the most popular business internet service we provide to our customers. Followed by our dedicated Ethernet service. Both of these services meet bandwidth heavy demands and are reliable with SLAs providing guaranteed up time. Our customers use these services to support multiple users and cloud based connectivity. Our fiber and Ethernet services provide speeds to 100 Gbps upload and 100 Gbps download.
Multi-gig Fiber Speedtest April 27th, 2023
Multi-gigabit test for another business customer. Lots of users with heavy bandwidth needs. Completely managed end-to-end connectivity, from install to 24-7 proactive monitoring.
Fastmetrics Fiber Internet Speedtest April 24th, 2023
Gig handoff for a business WISP (Wireless Internet Service Provider) customer. Test from customer's San Francisco location. (Yes, we are the ISP for other ISPs – about 5 at last count).
Fastmetrics Fiber Speedtest March 23rd, 2023
Speed testing fiber Internet from a San Francisco Government customer's location;
Multi Gigabit Speedtest Result Dec 10th, 2021
Yet another multi gigabit speedtest result from a customer's office. Clocking in at over 9.1Gbps download and 8.1Gbps upload. Multi gigabit speeds open up a lot of possibilities. Get more done by reducing latency and connecting faster to cloud service providers such as AWS, Azure, Google Cloud and more.
Gigabit Speedtest November 10th, 2021
Another recent multi gigabit internet speed test from a customer location, back to our San Francisco data center.
Fastmetrics Multi Gigabit Speedtest May 18th, 2021
The below speedtest video was recorded from our San Francisco head office on May 18th, 2021. This is a fraction of the connectivity speed we actually provision to customers. (The Gigabit result in the first screen of the video below, is another Fastmetrics gigabit speedtest too). Our Internet service and direct connect speeds reach up to 10 Gigabits per second, upload and download. Our speedtests are often limited by the testing equipment used. This speed test used a Lenovo T480 laptop plugged into a Thunderbolt3 adapter, which in turn was plugged into a 10Gig switch at our office.
Fastmetrics Fiber Internet Speedtest March 23rd, 2021
This San Francisco software developer wanted more reliability, which they weren't getting from their wireless ISP. We installed and setup fiber. The result is faster up and down speeds, backed by our 99.99% uptime metricFIBER SLA.

Fastmetrics Fiber Internet Speed Upgrade Results: Dec 31st, 2020
On new years eve in 2020, we upgraded the fiber Internet service speed of this San Francisco public health organization. Fast symmetric speeds over 940 Mbps over download and upload. 1ms ping.
Mobile Speed Test – Business WiFi Service San Francisco: May 28th, 2020
This test completed via iPhone, shows the download and upload capability of our managed business WiFi service. This was tested from San Francisco. The service is available to businesses across the entire Bay Area
Bay Area Customer Internet Speed Test: April 23rd, 2020
New Customer Speed Test Result: April 21st, 2020
Fiber & Direct Cloud Connect Customer Speed Test – October 22nd, 2019
Symmetric Internet Speed Result For Bay Area Customer – October 10th, 2019
Fiber Speedtest.net Result – September 11th, 2019
Fiber Internet Speed Result – August 19th, 2019
Fiber Optic Internet Speed Test Result – April 4th, 2018
Backup Internet Speedtest Result – June 12th, 2017
Close to symmetric for this customer. Note that some bandwidth is required to keep the connection open, so not the complete 50 Mbps. This circuit is used by our customer as a fail-over solution.
Fiber Optic Internet Speed Test – May 22nd, 2017
Fiber speed test for a San Francisco based customer. This fiber connection is used as a backup to the primary connection of a large company. Note the upload speed in this speed test exceeds the download speed.
Fiber Internet Test Result – May 25th, 2017
Very close to a symmetric connection for this San Francisco apparel business. Note that some bandwidth is required to keep the connection open.
Fiber Speedtest.net Result – May 15th, 2017
A lower tier connection test, coming in at under 100 Mbps. Internet service for a Bay Area based business customer.
Fiber Internet Service Test – May 12th, 2017
Symmetric fiber internet connection speed test result for another SF based customer. Note the upload speed of just over 230 Mbps.
Business WiFi Service Speed Test – May 10th, 2017
A good result here for business WiFi service. Note the slightly slower ping of 4 ms. Upload speed is not symmetric, but still fast. We provide completely managed WiFi service. This provides optimal speed performance for a business wireless network.
Gigabit Fiber Internet Speed Test Result – September 18th, 2015
This 2015 speedtest.net result, shows the capabilities of our Gigabit fiber service. Gigabit internet download speed alone, combines the power of approximately 660 bonded T1s!
Fiber Internet Speed Result – December 23rd, 2014
Another fiber optic test result here. Good ping time and download speed. Upload speed is still fast at > 600 Mbps, but it's not symmetric.
Fiber Optic Internet Speed Result – October 14th, 2011
This speed test from 2011 is also for a business fiber customer. Note the ping time is a little slower than our gigabit result above.
More Speed Test & Internet Service Resources
10 Gbps Per Second Promo Video
Our new 10 gigabits per second (symmetric upload and download speeds) fiber or dedicated Ethernet service, is now available to qualified businesses. We created a short video for the Fastmetrics YouTube channel, to promote this new business service offering.
Video transcription: Is your business looking for fast, reliable and secure internet service? Fastmetrics supplies symmetric fiber, scalable to 10 gigabits per second. Backed by local support in the Bay Area. Get a free install at your business today! Visit fastmetrics.com
Internet Speed Raceway Infographic
We raced popular Internet services, then paired each service with a car. Placings were awarded from 1st to 6th. Business Internet services were matched with cars based on performances in the 'power lap' of the BBC racing show, Top Gear. Results from the BBC show were given preference over U.S results, due to a larger range of speed tests. No offense to any Peel P50 or DSL 'drivers'! Considerations from each Internet service;
Upload speed (high influence)
Download speed (medium influence)
Technology used (low influence)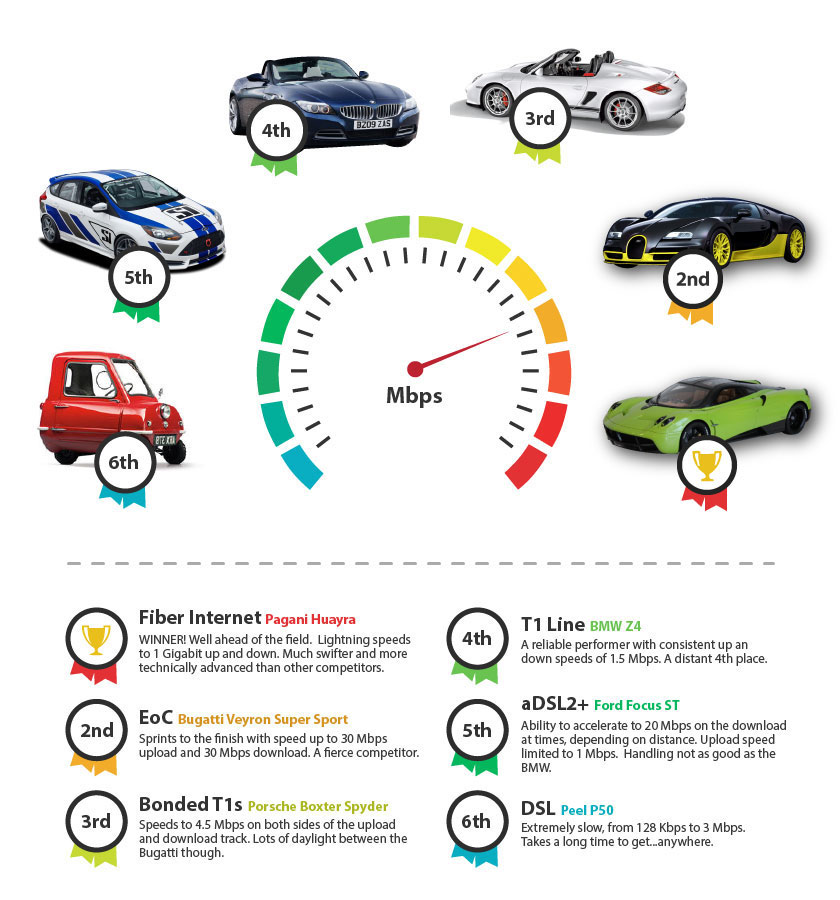 Source: Top Gear Power Lap Times
About Fastmetrics, Inc. Building & Business ISP
Since 2002, Fastmetrics is the Bay Area's only dedicated business ISP. We provide telecommunication services in California and the San Francisco Bay Area. Reliable service – backed by better live and local support. From install to 24-7 proactive monitoring, get treated like a VIP customer. Not a number by a faceless call center. We specialize in managed business internet and phones, dedicated high speed business fiber internet, business WiFi, SIP voice solutions / UCaaS and managed network services. We are a Microsoft and Cisco Meraki Partner. Our team are Certified Cisco Specialists, Ubiquiti Enterprise Wireless Accredited and Polycom Authorized Solution Advisors. We take care of your business network, so you can focus on growth.